About This Fundraiser
***Support our student volunteers completing a 5K race for Vision Care!***
This year, we, a small group of student volunteers for Vision Care USA, teamed up to organize a special 5K event "Steps for Sight" during the week of December 20th - 26th to fundraise and support Vision Care's global mission to restore sight & prevent blindness.
As students/young adults who are passionate about helping others in medically underserved communities especially during the pandemic, we would like to take an initiative to support Vision Care in providing their partner hospitals essential PPE and medical supplies, so that health professionals are properly protected and are able to continue transforming the lives of individuals and communities.
There are 1.1 Billion people in the world living with vision loss and that 80% of them are PREVENTABLE and AVOIDABLE. Vision Care is an international blindness relief organization that has provided free eye exams to over 177K+ people and sight-restoring surgeries to nearly 27K people in 38 countries, since 2002. Their mission and service to the communities are so valuable, and we believe that their work must continue - safely from COVID-19!
We genuinely appreciate whatever amount you can give, $10, $20, $50, and 100% of your gift will be donated to Vision Care.
Please give to Vision Care and support our 5K race this winter!!

Thank you very much and we wish you safety, wellness, and happy holidays.
Vision Care USA Student Volunteers
Ryan, Sara, Hailey, Julie, Isabel, Hamin, and Eunyoo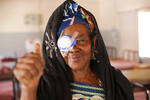 Give the Gift of Sight on this #GivingTuesday.
Help us raise $20,000, of which 100% of the funds will be used to purchase much-needed cataract surgery instruments and PPE for our local Vision Eye Camps in Ethiopia, Nigeria and Morocco.
- Your $150 tax-deductible donation will enable Vision Care to give the Gift of Sight to a child in need.
- And a $1,500 tax-deductible donation will enable Vision Care to purchase a set of cataract surgery instruments.
Since 2002, Vision Care has examined 177,122 patients and performed 26,869 sight-restoring surgeries in 38 countries - transforming lives and communities.
$20, $50, $100, $150, or whatever amount you can give will help.
And please share this campaign with your friends and family.
Thank you for your support!
Sincerely,

Vision Care USA