About This Fundraiser
I am planning to go to Gambia with Vision Care USA in February 2020 to render anesthesia care to patients who undergo eye surgeries.
This will be my 4th time participating in this mission with Vision Care USA in Africa. Every time I go, I have felt so blessed and fortunate to use my skills to make a difference in those who have little to no resources otherwise. Some patients would walk miles and miles across a desert to receive cataract surgery, a procedure that is considered to be simple in US and Korea. These patients would then have to wait for an entire year until our next visit to receive further treatment for their other eye.
Your donation will allow me to administer anesthesia to these patients and give them the sight they have been waiting for after many years of near blindness.
Thank you so much for your contribution.
Sincerely,
Soo-Ok Kim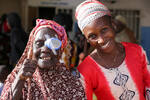 Give the Gift of Sight on #GivingTuesday.
Since 2002, Vision Care has provided 173,121eye examinations and performed 26,063 sight-restoring surgeries in 38 countries - transforming lives and communities.
- Your $150 tax-deductible donation will enable Vision Care to give the Gift of Sight to a child in need.
- And a $1,500 tax-deductible donation will enable Vision Care to purchase a set of cataract surgery instruments.
Help us to reach our fundraising goal of $15,000!
$20, $50, $100, $150, or whatever amount you can give will help.
Please share this campaign with your friends and family.
Thank you for your support!
Sincerely,

Vision Care USA